We're committed to helping you bank simply and safely. That's why with ANZ Shield, you now have the option to add an extra layer of security to your ANZ Internet Banking.
ANZ Shield is a free security app for Android and iPhone. It allows you to generate a one time passcode - known as a Shield Code - to authenticate certain ANZ Internet Banking payments and activities.
Watch the ANZ Shield video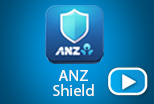 Who can use ANZ Shield?
You're eligible to register for ANZ Shield if you:
Are a personal or business customer using ANZ Internet Banking 
Have an iPhone running iOS 5.0 or above 
Have an Android phone running Android 2.2 (Froyo) or above
If you're a business customer using ANZ Internet Banking for Business, you will continue to use your existing ANZ Security Device which already provides you with an additional layer of security. ANZ Shield is available for use with ANZ Internet Banking only.
How do I register for ANZ Shield?
Navigate to the 'Update Details' tab in ANZ Internet Banking. 
Click the 'ANZ Shield' link to begin registration. 
You'll be guided step-by-step through the simple registration process. If you don't currently have ANZ Internet Banking, you can apply for ANZ Shield when you're completing your ANZ Internet Banking registration.
Your phone or tablet requires network connectivity and push notifications enabled to complete the ANZ Shield registration process.
How do I generate a Shield Code?
Open the ANZ Shield app from your registered phone, and then enter your four digit ANZ Shield PIN to automatically generate a unique six digit Shield Code. You'll only need to generate a Shield Code if you are prompted to do so during an ANZ Internet Banking payment or activity.
Please note that a Shield Code is different to a Sync Code.  If you are being asked to enter a Sync Code into the ANZ Shield app, you will need to log into ANZ Internet Banking and complete the registration process to generate a Sync Code.
Reset your ANZ Internet Banking password online with ANZ Shield
Most of us will forget a password at some time in our lives. Take the hassle out of forgetting your ANZ Internet Banking password in the future by registering for ANZ Shield today.
If you forget your ANZ Internet Banking password and you are registered for ANZ Shield, you may be able to reset your password online. Just click on 'I forgot my password' on the 'Log on to ANZ Internet Banking' page and follow the prompts. If you're eligible, you'll be stepped through the simple process.
If you're trying to log on to ANZ Internet Banking and you enter your password incorrectly, your customer registration number will be suspended after three incorrect attempts. In this case, if you're eligible to reset online you'll automatically be presented with that option.