Making big decisions about your home? Buying a boat, caravan, car or contemplating a move to the country, whatever it is, we can help.
Your home
The place we can truly be ourselves and for most of us the biggest financial investment we will ever make.
A minute on your money - Understanding home loans 
Just like a home, your loan should suit you, listen to one of our experts insights into the things to look for.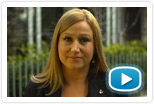 Home changes
You might need more or less space, a change of scenery or have to sell your home to free up funds.  Whatever the reason for the change, it's how you deal with it that counts.
Buying a vehicle
A new car, caravan, recreational vehicle or boat – these lifestyle purchases are big financial decisions.