We've all heard about the joys of parenthood, but what about all of the responsibilities? We'll help you cope with some of the financial changes your bundle of joy brings.
Having a baby
It's one of the most exciting times in your life, it also comes with arrange of financial implications, in this video you will hear from an expert who has been through it herself.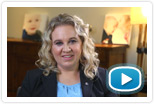 Pregnancy and birth
If you've just discovered you're pregnant, or are planning to become pregnant, you're facing a number of decisions. The first is where you intend to have your baby and the second is who'll care for you and the baby before, during and after the birth.
Care during pregnancy is known as antenatal care

Antenatal classes are run by hospitals, birthing centres, community health centres and midwives.
Care after pregnancy is known as postnatal care

Whether you plan to have your baby as a private or public patient, you need to book your hospital and specialists as far ahead as possible as they're often booked out months in advance.
Private patients

As a private patient you've got the right to choose your own doctor. That doctor must have visiting rights to the hospital you wish to use. This will influence your choice of doctor and/or hospital.
Ask for an estimate of the likely out of pocket expenses. And remember, just because you've got private insurance, it doesn't mean that you have to use it.
Public patients

As a public patient in a public hospital you receive the same standard of care as a private patient in a public hospital.
All patients – private and public – have the same access to accident and emergency departments. Everyone is cared for equally in an emergency.
However, there are some differences as a public patient:
you don't have a choice of doctor
you don't have a choice of room
you won't be charged any fees.
If you have other children
Decide when to tell them about the baby and think about how to keep them involved, with visits to the doctor and baby shopping.
Realise that life will change for your other child/children. See if you can plan one-on-one time with them regularly.
If you're going to move your other child's sleeping arrangements it's best to do this well before the baby arrives. This way it's something new and exciting for your toddler, as opposed to something they have to give up for the new baby.
Plan for the time when you'll be in hospital, and who'll be looking after your other child/children.
You'll need to set up a nursery and get organized for the new arrival.
Clothes and furniture. Ask friends if they have items they no longer need, and shop second hand
Look at hiring the bassinet until your baby goes into a cot
Ensure that the items you buy meet Australian standards. In some cases meeting these standards is voluntary, but it's illegal to sell or hire a new or second hand cot that doesn't meet the Australian standard (look for recognition on the label – AS/NZS 2172).
Preparing for the new arrival is exciting, but in all the excitement it's wise to double check the important safety issues.
According to the Child Accident Prevention Foundation of Australia, accidents account for 90 percent of all injury related deaths in children aged 0-14 and 60 percent of these occur in the home.
The foundation's website – is a great resource, with practical tips to help you create a safe environment for your baby.
Your home

One of the other questions having a baby prompts is do we need more space?
If the answer is yes, then you need to decide whether to renovate or move.
The following might help with your decision:
Will extending give you the home you want or are you better off moving?
Is the area you are in right for your new family?
If you're renovating to add value for future resale, then how much is too much to spend?
Are you overcapitalizing?
Consider the timing of the move or renovation and how you'll feel living through a renovation while you're pregnant and/or renovating after the little one comes home.
Renovating will certainly add an extra headache when you're trying to get both yourself and your baby into a routine.
Your baby has arrived

Along with the joy and exhaustion, there's much to be done after the birth. Your little baby needs a name and the world needs to know he/she has arrived.

Check that you've:
registered the birth
notified Medicare so your child is placed on your card
advised your private health insurer (if applicable)
made an appointment with your local early childhood health centre
been given a personal health record.
When your child is born you'll receive a personal health record book, often referred to as the 'Blue Book'. Inside are spaces for doctors to provide details of immunisation and other health checks. It also includes important reminders about when your baby needs to see a doctor along with useful contact details. Take this personal health record with you each time you visit the doctor, hospital or early childhood health centre.
Work, leave and payments
In most cases you should, if you wish, be able to work through your pregnancy. In some circumstances, occupational health and safety issues may prevent you from working in your normal role, if there's a risk to your health or the health of your baby.
If you're concerned, speak with your doctor and discuss the risks. You can get more information from Safe Work Australia. See also the Working Women's Centre.
There are also laws to guard against discrimination by an employer before, during or after your pregnancy.
For more information about your rights at work and the support available you can contact Fair Work Australia.
Paid parental leave provides up to 18 weeks pay at the national minimum wage. You can access more information about it at the Federal Government's Family Assistance Office.
You can apply for either the Federal Government's Baby Bonus or Paid Parental Leave, but not both. Go to the Centrelink website to check your eligibility for the Baby Bonus, and use their estimator to see which is a better payment for your situation.
Federal legislation also entitles (eligible) parents to a total of 52 weeks unpaid leave to care for their newborn  or adopted baby. This leave must be taken on a shared basis and, apart from one week at the time of the birth, each parent must take their leave at different times.
In most cases you should be entitled to return to the same position you held prior to taking leave. You can find details on eligibility and how to apply for leave at Fair Work.
Also remember, you can't be forced to take maternity leave.
Helpful links
Parenting isn't an exact science and there's no 'perfect' way to look after your new arrival – every child and every situation is different. But you may find these sites helpful.
Safe sleeping

Tragically Sudden Infant Death Syndrome (SIDS) still claims lives every year. For information about safe sleeping go to The National SIDS Council of Australia website, SIDS & Kids at www.sidsandkids.org or call 1300 308 307.
How we can help
It's an exciting time, and with all that's going on it's also a time when many people overlook some of the financial implications of having a baby. Don't worry our experts can help.
An A-Z Review® - sitting down with one of our professional personal bankers could help ensure your banking is structured to meet your needs and help you reach your goals sooner. Request an A-Z Review® at your nearest ANZ branch.
ANZ Home and Investment Loans: an ANZ Home Loan specialist can help explore your options and find the right solution that best suits your needs. And remember, ANZ is Australia's most awarded home lender1. Contact us today.
An ANZ Financial Planner – can help you save for your child's future education needs and protect your financial future with an appropriate insurance cover for your expanding family. Your initial discussion is complimentary and without obligation. Book an appointment with an ANZ Financial Planner.
Insurance solutions – with a new baby depending on you, now is not the time to take risks with your insurance. Now is an ideal time to review things such as your life insurance, income protection and home insurance to ensure you are sufficiently protected. Find out more about ANZ Insurance.
ANZ Financial Planners are representatives of Australia and New Zealand Banking Group Limited, ABN 11 005 357 522, the holder of an Australian Financial Services licence.
1. Money magazine Home Lender of the Year Award 2010, 2008, 2007, 2006 and 2005, and AFR Smart Investor Magazine Home Lender of the Year Award 2005, 2004, 2002, 2001, 2000 and 1999. Australian Lending Awards, Mortgage Lender of the Year 2011 and Best Investor Lender 2011. The Australian Lending Awards is an independent initiative of The Adviser and specialist research and advisory firm RFI.