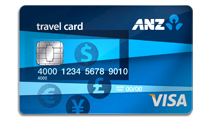 Reloading your ANZ Travel Card is easy and convenient
You can choose any of the following options (Note: the 1.1% Reload Fee will be waived until 31/05/17):

In Person
At any ANZ Foreign Exchange Centre within Australia (funds available immediately)
At any Australia Post outlet using Post Billpay® (funds available in up to 3 business days(or up to 10 business days if you use Post Billpay to reload using a cheque).

Online
Via BPAY® – Refer to the back of your card for the Biller Code, and the Reference Number is the 16-digit card number on the front of your card (funds available in up to 3 business days).

Over the phone
Via phone banking using BPAY® – Biller Code and Reference number as above (funds available in up to 4 business days).
When reloading funds on your ANZ Travel Card via BPAY® and Post Billpay you will not be able to load more than one currency at a time.
The amount you reload will always be automatically applied to the first currency in your card currency order. You can easily rearrange the card currency order prior to a reload. For information on how, see 'Frequently asked questions' below.
ANZ Travel Card Customer Service is available 24 hours a day, 7 days a week by phoning 1800 094 003 within Australia or +613 9683 7777 when overseas (If calling from overseas, please call reverse charge +613 9683 7777. If you dial the number direct, you may be charged for the call) to report your card lost or stolen, change your PIN, check your card balance or for general enquiries.
Please note: Federal Government legislation requires ANZ to verify the identity of all ANZ Travel Card holders. If you are not already a current ANZ customer, you must complete ANZ's Customer Identification Process.
Please note: If you attend an ANZ 'Sales Only' or 'In Centre' branch, you will need an ANZ account or a credit card that is accepted by ANZ in order to be able to purchase an ANZ Travel Card.  For all other locations that sell ANZ Travel Cards, you can use cash.
Current as at 28/08/2015. This material does not take into account your personal needs and financial circumstances and you should consider whether it is appropriate for you. ANZ recommends you read the Product Disclosure Statement and the Financial Services Guide which is available by calling 13 13 14 or visiting anz.com before deciding to acquire or hold the product. Australia and New Zealand Banking Group Limited (ANZ) ABN 11 005 357 522. AFSL 234527. ANZ's colour blue is a trade mark of ANZ.
Windows Media Player will be required to view the TV advertisements. You can download Windows Media Player free of charge.
You need Adobe Reader to view PDF files. You can download Adobe Reader free of charge.