The Standard & Poor's Australian Stock Exchange 200 Index (S&P/ASX200 Index) represents the biggest 200 companies listed on the Australian share market.
The ANZ Online Investment Account is linked to the performance of an investment fund which seeks to track the S&P/ASX200 Index.
Are all 200 companies represented equally within the S&P/ASX200 Index?
The companies do not have equal representation in the Index. Instead, the Index measures company size based on the company's market capitalisation.
Larger companies represent a greater proportion of the Index than smaller ones. 
The 10 biggest companies in the S&P/ASX200 Index as at 13/05/2011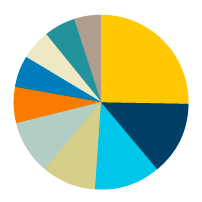 BHP Billiton (12.76%)

Commonwealth Bank of Australia (6.93%)

Westpac Banking Corporation (6.13%)

National Australia Bank (5.01%)
Australia & New Zealand Bank group (5.00%)

Wesfarmers Limited (3.29%)

Rio Tinto Limited (3.00%)

Telstra Corporation Limited (2.85%)

Woolworths Limited (2.80%)

Newcrest Mining (2.51%)
More information about the companies in the S&P/ASX200 Index can be found at www.anz.com/Online-Investment-Account
Current as at 13 May 2011 (Source: Standard & Poors).
How often is the S&P/ASX200 Index Reviewed?
The S&P/ASX200 Index is updated periodically by the Standard & Poor's Australian Index Committee. The Committee is an independent team of five experienced investment professionals including three Standard & Poor's economists and analysts, and two representatives from the Australian Stock Exchange.
This product is jointly issued by ANZ (for the deposit account) and OnePath Funds Management Limited (for the Fund). The performance of an investment in the Online Investment Account is not guaranteed and can be volatile, particularly in the short term. Once the money that you have deposited is invested in the Fund, it is no longer held on deposit by ANZ or subject to any depositor protection under the Banking Act 1959.
Neither ANZ, OnePath Funds Management nor any other company in the ANZ Group guarantees your investment in the Online Investment Account or the performance of the product or its investments. Your investment in the product is subject to a range of investment risks. They include possible delays in the repayment of withdrawals from your investment and loss of income and principal invested.
ANZ and OnePath Funds Management recommend you read the Product Disclosure Statement (PDF 896kB) before deciding to acquire or hold the product.
You need Adobe Reader to view PDF files. You can download Adobe Reader free of charge.