Most people are familiar with the concept of borrowing money to invest in property, and using the property as security. The same principle applies to a margin loan (also known as a share investment loan) where the amount you borrow for investment purposes is secured against the shares, managed funds, and cash in your portfolio.
The borrowed money can then be used to buy even more shares or invest in more managed funds. With a margin loan, you could expand your investment portfolio much faster than if you were relying on savings alone, giving you the ability to increase any potential returns.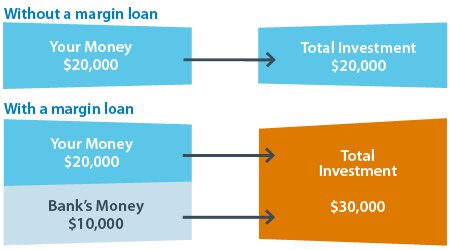 Using a margin loan to get ahead
You don't need to have a large investment portfolio to get started. If you're new to borrowing to invest the best way is to start small, at a level well within your comfort zone.
Loan to value ratio
The maximum amount you can borrow through a margin loan is determined by the value of the shares, managed funds and cash you are using as security against your loan, and is based on a percentage of the overall value of these assets. This is known as your 'Loan to Value' ratio or LVR.
The LVR for most shares or managed funds is between 40% and 75% of the current overall value of your security.
As an example, if XYZ Ltd shares were used as security against a margin loan, based on the LVR, you could potentially borrow up to 70% of the current value of these shares.
Security value
The amount you could borrow against each security is called its Security Value. It is determined by the Loan to Value Ratio (LVR).
Example: If XYZ Ltd shares are valued at $1.00 each, and the LVR is 70%, you can borrow $0.70 (security value) for each XYZ Ltd share you own.
Multiplier effect
As your investments grow, and the value increases, you could borrow more to increase the size and value of your portfolio, as you see fit. This is known as the 'multiplier effect' and is one of the potential key benefits of a margin loan.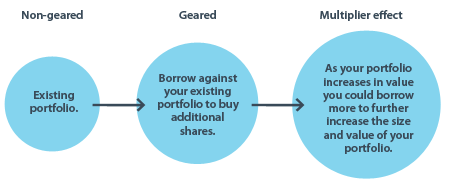 Of course, the 'multiplier effect' can work for you or against you, magnifying both gains and losses. This is why it's always wise to seek professional advice about how much to invest, which shares and managed funds to purchase, when to sell and to keep in mind the potential benefits of minimising risk through diversification.
Multiplier effect - case study
Step 1 – Getting Tony started
Tony has an existing portfolio of shares worth $40,000. He decides he'd like to get ahead faster by taking out an ANZ Share Investment Loan. Tony has decided to use his existing portfolio as security in order to buy more shares. 
The amount Tony can borrow against his existing portfolio is the sum of the security values in his portfolio.
| Existing portfolio | Market value | Loan to value ratio (LVR) | Security value |
| --- | --- | --- | --- |
| Stock 1 | $20,000 | 75% | $15,000 |
| Stock 2 | $20,000 | 50% | $10,000 |
| Total | $40,000 |   | $25,000 |
Step 2 – Getting the 'multiplier effect' working for Tony 
Tony decides to buy shares in a company called Stock 3, which has an LVR of 75%. Tony is able to purchase $100,000 worth of Stock 3 shares, by using his existing portfolio as security for an ANZ Share Investment Loan.
How does this work?
To find out how much he could buy, Tony did the following calculation:
Security value ÷ (1 - LVR of Stock 3)
$25,000 ÷ (1 - 0.75) = $100,000
| New portfolio | Market value | Loan to value ratio | Security value |
| --- | --- | --- | --- |
| Stock 1 | $20,000 | 75% | $15,000 |
| Stock 2 | $20,000 | 50% | $10,000 |
| Stock 3 | $100,000 | 75% | $75,000 |
| Total | $140,000 |   | $100,000 |
Loan Amount = $100,000
Examples are used for illustration purposes only and are not intended as advice. This material does not take into account your needs and financial circumstances and you should consider whether it is appropriate for you.
Interest rates
As with most loans you are charged interest on the drawn loan amount. You can select either a variable or fixed interest rate:
Variable rate
A variable rate loan acts like a line of credit. You can draw down when you need it, or repay part or all of the loan if you sell securities or receive dividends. The interest rate charged on your loan may change depending upon market movements.
Fixed rate
A fixed rate loan could give you greater peace of mind because your interest payments are 'locked-in' and you don't need to worry about interest rate rises for the term of the loan. The interest rate is usually less than a variable loan, and as an added benefit, you may be able to claim all of the interest expense as a deduction in the current tax year.
ANZ offers a wide range of fixed loan terms, from 3 months to 5 years. You can choose to:
pre-pay interest in advance
pay the interest monthly in arrears.
It is important to note that prepaid interest is not refundable and break fees may apply if the loan is paid out while in a fixed rate period.
View the latest fixed and variable interest rates.
Leveraging a share portfolio is fast becoming a popular wealth creation strategy. However, you should be aware that whilst leveraging into investments increases the potential return, it is important to recognise that it can also multiply the effects of falls in sharemarket values. We therefore strongly advise you talk to your financial planner, tax adviser and/or stockbroker and ensure you understand the risks, the specific tax implications as well as the legal and financial ramifications of a share investment lending facility.
The information provided is general in nature only and has not been prepared taking into consideration your particular needs, circumstances or objectives. Before acting upon advice, you should consider whether it is appropriate for you.  ANZ recommends you read the ANZ Share Investment Loan Product Disclosure Statement and the ANZ Investment Lending Terms and Conditions which are available by calling the Client Services Team before acquiring the product. Fees and charges apply. All ANZ Investment Lending applications are subject to ANZ's credit approval criteria.
References to an 'ANZ E*TRADE Share Investment Loan are references to that product or, where appropriate, to the division of ANZ that administers that product. BPAY® is registered to BPAY® Pty Ltd ABN 69 079 137 518.
The ANZ E*TRADE Online Investing service is provided by ETRADE Australia Securities Ltd (trading as "E*TRADE Australia") (ACN 078 174 973, AFSL No.238277), an ASX and Chi-X Australia Participant. E*TRADE Australia is a subsidiary of ANZ and is a separate entity from ANZ. ANZ does not have any liability to you in respect of any information, product or service offered by E*TRADE Australia. Similarly, E*TRADE Australia does not have any liability to you in respect of ANZ's activities and services. © 2003 E*TRADE Financial Corporation and E*TRADE Australia. All rights reserved. E*TRADE Australia does not provide investment advice to it's clients. E*TRADE and the Asterisk Logo are registered trademarks of E*TRADE Financial Corporation or it's subsidiaries and are used with permission.
You need Adobe Reader to view PDF files. You can download Adobe Reader free of charge.