When building an investment portfolio, you can use different strategies depending on your needs. Some strategies help you to increase your investment more quickly, while others may be more tax effective or can reduce the impact of market fluctuations.
Time in the market is generally more important than market timing. By taking a longer-term view and being prepared to ride out the lows, you may maximise the value of your investment in the long run.
You may also gain the benefit of compound returns. This means you earn interest not only on the initial amount invested but also on the cumulative interest that is earned over time. The longer you compound, the more your wealth grows. Compounding is most powerful if you start early and make regular contributions.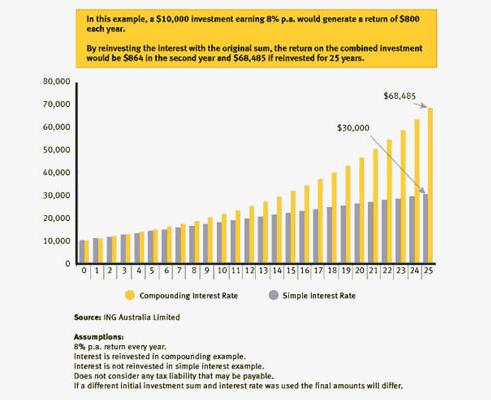 This savings amount is an illustration only and is not a prediction or estimate of the actual savings you can achieve.
Dollar cost averaging means investing a fixed sum of money over regular intervals, regardless of which way the investment markets are heading. By doing this, you can purchase units at an average cost.
This strategy removes guesswork about when you should buy and sell. Not even the best investment managers can pick the highs and lows of the investment markets all the time. Dollar cost averaging is a disciplined way of making regular investments.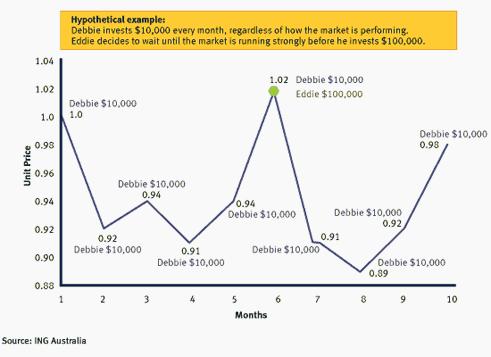 Investing regularly over time

| Investor | Price paid for units | Total units allocated | Value of units at month 10 | Increase in value of investments |
| --- | --- | --- | --- | --- |
| Debbie | 89c - $1.02 | 106,238 | $104,113 | $4,113 |
| Eddie | $1.02 | 98,039 | $96,078 | -$3,922 |
All investments contain elements of risk. These risk characteristics are not always the same for each investment - so what may affect the value of one investment may not affect another. By spreading your portfolio between a number of different investments, and diversifying your investments, you can decrease the effect of one investment on the performance of your overall portfolio.
Diversification ensures your investment dollar is spread across a range of investments in line with your investment objectives. Balancing your portfolio across a range of investments helps you to maximise your investment returns and minimise your exposure to risk. Managed funds are one of the easiest ways to diversify.
Be better off
ANZ Financial Planners are dedicated to providing you with information so that you can make the decision that is right for you.

Register for a no-obligation appointment

Visit your nearest branch