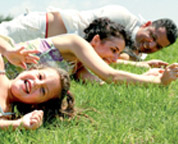 Safeguard your family's way of life for around $2 a day#.

#Based on a 38 year old male smoker who is a Project Manager and earns a gross annual income of $84,000 who can obtain an income benefit of $5,250 per month with a 2 year benefit period and a 30 day waiting period for a monthly premium of $60.52. The price of $2 a day for this example does not include cover for the optional TPD Benefit. Price may be higher or lower than $2 per day depending on individual factors such as age, gender, occupation and cover.
ANZ Income Protection is issued by OnePath Life Limited (OnePath Life) (ABN 33 009 657, 176 AFSL 238341). OnePath Life is a wholly-owned subsidiary of Australia and New Zealand Banking Group Limited (ANZ) (ABN 11 005 357 522, AFSL 234527) an authorised deposit-taking institution (Bank) under the Banking Act 1959 (Cth). OnePath Life is the issuer of the product but it is not a Bank. Except as set out in the issuer's contract terms (including the PDS), this product is not a deposit or other liability of ANZ or its related group companies. None of them stands behind or guarantees the issuer. The information provided is of a general nature and does not take into account your personal needs and financial circumstances. You should consider the appropriateness of the information, having regard to your objectives, financial situation and needs. You should read the ANZ Income Protection Product Disclosure Statement and Policy (PDF 324kB) and ANZ Financial Service Guide (PDF 136kB) and consider whether this product is right for you.
This information is current at June 2011 and is subject to change.
You need Adobe Reader to view PDF files. You can download Adobe Reader free of charge.