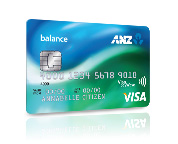 An ANZ Balance Visa could be suitable for you if you would like to:
be rewarded for reducing your credit card balance1
take up a rewards credit card with a competitive interest rate on purchases.
ANZ Balance Visa rewards you for reducing your credit card balance1, including repayments on your regular credit card spending, interest and fees on your ANZ Balance Visa and balance transfers from non-ANZ credit cards to your ANZ Balance Visa.
Your ANZ Balance Visa Reward Points will not expire as long as your account remains open. You can redeem them as they accumulate, or save them up to give yourself a special treat. And there is no cap to the number of points you can earn.
 
Interest rate on purchases
Interest rate on cash advances
Interest free period4 on purchases
Up to 55 days
Minimum credit limit
$1,000
Worldwide emergency credit card replacement.
As an ANZ Balance Visa cardholder, you have access to a range of optional extra services including:
Rewards for reducing your balance, including repayments to purchases, fees, interest, cash advances and repayments on balances transferred1.
| Earn rate | Amount re-paid to balance |
| --- | --- |
| 1 point | $1 |
Redeem Rewards Points for cashback, shopping vouchers and gift cards.
Set up auto-redemption so your chosen reward is automatically sent to you when you are eligible for it.
Reward Points never expire as long as your account remains open.
Visa Entertainment providing you with access to special events, exclusive merchandise packages and home entertainment products.  Visit Visa Entertainment.
How to apply:

Call 13 33 33, Monday to Friday, 8am to 8pm (AEST), Saturday & Sunday, 10am to 6pm (AEST)
Once approved, you may expect to receive your rewards credit card within five business days. You don't need to be an ANZ customer to apply for ANZ Balance Visa credit card.
ANZ credit card application requirements:
you are over 18 years of age
you have a good credit rating
you are a permanent Australian resident, earning a minimum annual income of $15,000 if applying for an ANZ Credit Card account. If you require a Platinum credit card account or you are a non-permanent Australian resident, you must earn a minimum annual income of $50,000.
View ANZ terms, conditions, fees and charges
Terms and conditions are available on application. Fees and charges apply.
All applications for credit are subject to ANZ's credit assessment criteria.
1. Rewards points are not earned on cashback transactions to your account. Rewards points accrue in accordance with the ANZ Balance Visa Rewards Program Terms and Conditions (call ANZ on 13 13 14 for a copy).
2. Standard annual percentage interest rate is

(View current rates) on purchases and

(View current rates) on cash advances as at

(View current rates) and is subject to change.
3. Includes a $22 Rewards Program Services Fee, which applies per card issued under your account. An annual $10 Additional Cardholder Fee also applies for each additional card.
4. Interest free  periods on the purchases do not apply if you do not pay your Closing Balance ( or, if applicable, your 'Closing Balance' less Instalment Plan and Buy Now Pay later plan balances) shown on each statement of account in full by the applicable due date . Payments to your account are applied in the order set out in the ANZ Credit Cards Conditions of Use.
™ ANZ Falcon is a trademark of Australia and New Zealand Banking Group Limited (ANZ) ABN 11 005 357 522. Falcon™ is a trademark of Fair Isaac Corporation.