ANZ Platinum
Low annual fee. More benefits.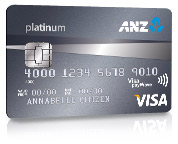 Current offer
0% p.a. for the first 16 months on balances transferred from non-ANZ cards to a new card.1
You pay, you get
Rates and fees
$87 Total Annual Account Fee 

(View current rates) interest rate on purchases2

(View current rates) interest rate on cash advances2
$6,000 minimum credit limit
Features and benefits
Special offer

We'll waive the annual account fee in your first year, and we'll waive it every year after that if you make $20,000 eligible transactions on the card in the twelve months prior to your annual fee date
6
.
Shop with extra security and confidence

With ANZ Falcon™ you get advanced, around-the-clock monitoring for suspicious transactions
You won't be liable for fraudulent transactions on your ANZ credit card account7 with ANZ's Fraud Money Back Guarantee
Worldwide emergency credit card replacement
Complimentary insurance

Lifestyle and entertainment benefits
Complimentary membership to Visa Entertainment, offering access to ticket pre-sales, movie screenings, and special offers.
Complimentary Personal Concierge9 at your service 24 hours a day to manage anything from restaurant and taxi bookings through to party planning.
Access to over 2000 special dining and hotel offers with eDine®.
Great discounts, special offers and advice for wine lovers with ANZ Wine Club.
Convenient ways to bank
Use our app to bank on your iPhone or Android. Anytime. Anywhere
10
.
For payments under $100, simply tap and go with your card wherever you see this symbol. No need to sign or enter a PIN.
Manage your credit card online, 24/7.
Additional Cardholders

You can add up to nine additional cardholders at no additional cost
How to apply

Call 13 33 33, Monday to Friday, 8am to 8pm (AEST), Saturday & Sunday, 10am to 6pm (AEST)
You don't need to be an ANZ customer to apply for ANZ Platinum credit card. Once approved, you may expect to receive your ANZ Platinum credit card within five business days.
Eligibility
You are over 18 years of age
You have a good credit rating
You are a permanent Australian resident, earning a minimum annual income of $15,000 if applying for an ANZ Credit Card account. If you require a Platinum credit card account or you are a non-permanent Australian resident, you must earn a minimum annual income of $50,000.
Important information
View ANZ terms, conditions, fees and charges
1. Offer only available to new and approved credit card applicants who apply for an ANZ Platinum credit card account with the balance transfer by 13 January 2015.  Offer available in respect of balances transferred from non-ANZ credit and store card accounts only. Not available in conjunction with other offers, packages or promotions or in respect of balances transferred from an existing ANZ account. The offer must be requested at the time of applying for the credit card. The Promotional Plan annual percentage interest rate expires 16 months after the date the credit card application is approved, and after the first 16 months the standard balance transfer annual percentage rate will apply to any unpaid Promotional Plan balance. The standard balance transfers annual percentage rate is

(View current rates) for ANZ Platinum as at

(View current rates) and is subject to change. Terms and conditions apply to balance transfers (please call 13 13 14 for a copy). Payments to your account are applied in accordance with the ANZ Credit Cards Conditions of Use. ANZ reserves the right to withdraw this offer at any time.
2. Standard annual percentage interest rate is 19.74% p.a. on purchases and 21.49% p.a. on cash advances as at Saturday, 29 March 2014 and is subject to change.
3. The Overseas travel and medical insurance master policy, the Transport accident cover master policy and Rental excess cover master policy (the Master Policies) are issued by QBE Insurance Australia Limited ABN 78 003 191 035 AFSL 239545 to ANZ. Cover under the Master Policies is provided to eligible participating cardholders by operation of section 48 of the Insurance Contracts Act 1984 (Cth), The eligibility criteria which you must meet for each of the Master Policies is set out in the Premium Cards - Insurance booklet (PDF 356kB) - Part 1 QBE Product Disclosure Statement and policy wordings. When overseas, we recommend that you carry proof of that you have met the eligibility criteria. Any advice has been prepared without taking into account your objectives, financial situation or needs. You must decide whether or not it is appropriate, in light of your own circumstances, to act on this advice. You should ensure you obtain and consider the PDS before you make any decision to acquire it.
4. This estimate is based on a couple/family purchasing a standard international annual multi - trip policy underwritten by QBE without any customisation for pre-existing conditions or without taking into account any special conditions or requests as of 10 March 2014.
5. Interest free periods on the purchases do not apply if you do not pay your Closing Balance (or, if applicable, your 'Closing Balance' less Instalment Plan and Buy Now Pay later plan balances) shown on each statement of account in full by the applicable due date. Payments to your account are applied in the order set out in the ANZ Credit Cards Conditions of Use.
6. The ANZ Platinum Annual Account Fee ("Annual Fee") will be waived in the first year. In each subsequent year, if you make Eligible Purchases of $20,000 or more annually using your ANZ Platinum account your next Annual Fee will be waived. Eligible Purchases must be made in the year prior to your next Fee Date. Your Fee Date is the date that your account is assessed for charging an Annual Fee. If your account has not previously been charged an Annual Fee then for the purpose of determining your eligibility for the waiver, your Fee Date is the first date that your account is assessed for charging an Annual Fee. Eligible Purchases includes purchases made using your account, but excludes Balance Transfers, cash advances, interest, fees, transactions reversed and purchase refunds. If you do not make at least $20,000 of Eligible Purchases in the year prior to your Fee Date the Annual Fee will be charged to your account.
7. Provided the cardholder didn't contribute to the loss and notified ANZ promptly of the fraud.
8. Extended Warranty Insurance, 90-day Purchase Security Insurance, Best Price Guarantee Scheme and Interstate Flight Inconvenience Insurance is underwritten by Zurich Australian Insurance Limited ABN 13 000 296 640, AFSL 232507. Terms and conditions apply to the cover provided. For more information refer to the Premium Cards - insurances booklet (PDF 356kB) – Part 2 Zurich Policy Wordings.
9. Terms and conditions apply. Please refer to the ANZ Emergency Travel Service & Personal Concierge Terms and Conditions (PDF 92kB) for further information.
10. ANZ goMoney™ for Android™ is only available in Google Play™. ANZ goMoney™ for iPhone is only available from the App Store. iPhone is a trademark of Apple Inc., registered in the U.S. and other countries. App Store is a service mark of Apple Inc. Android and Google Play are trademarks of Google Inc. 
11. Flexible payment options are available for domestic or overseas purchase transactions of $500 AUD or more made using your ANZ Platinum account at an Eligible Merchant ("Qualifying Transaction"). An Eligible Merchant is any travel agent, online travel booking sites, airline or hotel, or any merchant ANZ advises as being an Eligible Merchant for the purposes of determining whether flexible payment offers are available.
™ ANZ Falcon is a trademark of Australia and New Zealand Banking Group Limited (ANZ) ABN 11 005 357 522. Falcon™ is a trademark of Fair Isaac Corporation.
® eDine is a registered trademark of Australia and New Zealand Banking Group Limited.
You need Adobe Reader to view PDF files. You can download Adobe Reader free of charge.