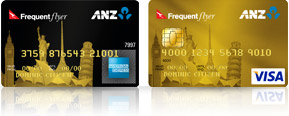 Two cards. One account. One credit limit. One statement. Simple.
Earn Qantas Points1.
You could maximise your Qantas Points1 earning when using your ANZ Frequent Flyer Gold American Express credit card.
Continue to see your Qantas points1 grow with the convenience of 36 million locations worldwide when using your ANZ Frequent Flyer Visa Gold credit card.
Interest rate on purchases
Interest rate on cash advances
Interest free period5 on purchases
Up to 55 days
Minimum credit limit
$5,000
Earn Qantas Points from everyday purchases1:
New applicants
ANZ Frequent Flyer Gold
Earn rate
Spend value on purchases

(excluding cash equivalent transactions)

ANZ Frequent Flyer Gold American Express card
1.25 points
$1
ANZ Frequent Flyer Visa Gold card
1 point
$2
Use your ANZ Frequent Flyer Gold credit cards at any of ANZ's Bonus Partners with the ability to earn Bonus Points1.
Keep it simple with one shared account, one Total Annual Fee, one monthly statement and one credit limit for both credit cards.
90-day Purchase Security Insurance4 - Insurance against loss, theft or breakage over a range of new personal items when the purchase is charged to your ANZ Frequent Flyer Gold credit cards.
Commission Free Travellers Cheques purchased through ANZ branches in Australia.
Exclusive offers with American Express Selects™ amexnetwork.com.au.
Visa entertainment providing you with access to special events, exclusive merchandise packages and home entertainment products www.visaentertainment.com.au.
Worldwide emergency replacement for your ANZ Frequent Flyer Gold cards.
Flexibility to add up to 9 additional cardholders to your account. Purchases by additional cardholders4 also earn Qantas Points that are credited to the account holder's points record1.
As an ANZ Frequent Flyer Gold cardholder, you have access to a range of services including:
View ANZ terms, conditions, fees and charges. If you are seeking a new ANZ credit card visit Compare Cards to find an ANZ credit card that suits your needs.
2. Standard annual percentage interest rate is

(View current rates) on purchases and

(View current rates) on cash advances as at

(View current rates) and is subject to change.
3. For ANZ Frequent Flyer Gold a Total Annual Fee of $195 applies which includes a $140 Annual Account Fee and a $55 Rewards Program Services Fee. For additional cardholders an Additional Cardholder Fee of $10 and Rewards Program Services Fee of $55 apply per additional cardholder on the account. The Total Annual Fee information displayed on this page applies to new customers only. Existing customers may be subject to a different Total Annual Fee and should call 13 13 14 for information regarding the Total Annual Fee that applies to their account.
4. 90-day Purchase Security Insurance is underwritten by Zurich Australian Insurance Limited. Terms and conditions apply. For more information please call 13 13 14.
5. Interest free  periods on the purchases do not apply if you do not pay your Closing Balance (or, if applicable, your 'Closing Balance' less Instalment Plan and Buy Now Pay later plan balances) shown on each statement of account in full by the applicable due date. Payments to your account are applied in the order set out in the ANZ Credit Cards Conditions of Use.
American Express is a registered trademark of American Express. The ANZ Frequent Flyer American Express card is issued by Australia and New Zealand Banking Group Limited (ANZ) pursuant to a license from American Express
You need Adobe Reader to view PDF files. You can download Adobe Reader free of charge.