ANZ Access Advantage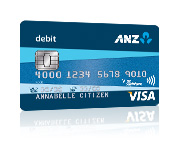 ANZ Access Advantage lets you use your money the way you want. Use your own money online, over the phone and overseas with Visa Debit access1.
Access your money with total freedom with unlimited transactions at ANZ ATMs, EFTPOS, ANZ Internet Banking, ANZ goMoneyTM and ANZ Phone Banking.
Features and benefits
You pay


No monthly account service fee if you deposit at least $2,000 a month2, or if you meet our other eligibility criteria3 (normally $5 a month).
Access your money

Bank on the go 
with ANZ goMoneyTM app for iPhone and Android.
Use your money

Wave and go
everyday purchases under $100 with Visa payWave. For purchases over $100 simply enter your PIN as usual.
Account protection

Secure

You're protected 24/7 with
ANZ FalconTM
. ANZ Debit Card transactions are monitored for unusual or suspicious activity.

Account safety net

The option of applying for a $500 or $1000 credit limit with
ANZ Assured
.
4
Three ways to save
Open an ANZ Access Advantage account for your day-to-day transactions, then choose from three savings options depending on what your needs might be. 
You can even pick all three if you like!
About interest rates & fees
The amount of interest you earn on balances held in your ANZ Access Advantage account will vary.
| Amount | Interest rate |
| --- | --- |
| Balances between $1 - $49,999 | 0.00% p.a. |
| Balances between $50,000 - $99,999 | 0.01% p.a. |
| Balances over $100,000 | 0.02% p.a. |
What fees do you have to pay?
No monthly account service fee if you deposit at least $2,000 a month2, or if you meet our other eligibility criteria3 (normally $5 a month).
For more information on fees download the ANZ Personal Banking Account Fees and Charges or ANZ Personal Banking General Fees and Charges (PDF 116kB).
Eligibility
Any Australian resident with an Australian address. 
Non-Australian residents
If you are currently overseas but are planning to move to Australia, you can apply for an ANZ Access Advantage account prior to your arrival. Visit our Moving to Australia information section to begin the account application process.
Alternatively call 61 3 8699 6943 from 8.00am to 8.00pm (AEST) Monday to Friday.
Concessions
You can apply for us to waive the monthly account service fee on your Access Advantage account if any of the following apply:
You are aged under 18 or over 60
You are a full-time student at an Australian educational institution
You receive a disability support pension or mobility allowance from Centrelink
You have an ANZ Home Loan, an ANZ Residential Investment Loan or an ANZ Portfolio Facility5 and have your salary credited to your account
You have a combined deposit balance of $50,000 in one or more of the following ANZ accounts: ANZ Access Advantage, Access Select, Premium Cash Management, Online Saver, Progress Saver, ANZ term deposits, V2 Plus, Passbook Savings, Premier Cheque.
How to apply

Call 1800 008 177, Monday to Friday, 8am to 8pm (AEST).
Important information
1. Where Visa is accepted. Eligibility criteria apply to issue of ANZ Access Visa
Debit card. Overseas transactions fees may apply to foreign currency transactions.
Please refer to ANZ Personal Banking Account Fees and Charges for fees and charges that apply.
2. Monthly account service fee waived for ANZ Access Advantage accounts opened 
on or after 30 November 2013 if you deposit $2,000 or more by the last business 
day of the calendar month.
3. Eligibility criteria apply. The monthly account service fee will be waived on one nominated ANZ Access Advantage account. For more information on Exemptions
and Concessions please refer to ANZ Personal Banking Account Fees and Charges.
4. All applications for credit are subject to ANZ's credit assessment criteria.
Terms and Conditions available on application. Fees and charges apply. 
5. Loans not eligible include ANZ Simplicity PLUS, ANZ Money Saver (no
longer sold), ANZ Easy Start (no longer sold) and ANZ Interest-in-Advance
Residential Investment Loans.
Any advice does not take into account your personal needs and financial circumstances and you should consider whether it is appropriate for you.
ANZ recommends you read the Terms and Conditions and the Financial Services Guide (PDF 104kB) which are available at anz.com or by calling 13 13 14, before deciding whether to acquire, or continue to hold, the product.
ANZ FalconTM is a trademark of Australia and New Zealand Banking Group Limited (ANZ) ABN 11 005 357 522. Falcon is a trademark of Fair Isaac Corporation.
ANZ goMoneyTM is provided by and is a trademark of ANZ. ANZ goMoneyTM for 
iPhone is only available from the App Store. iPhone is a trademark of Apple Inc., registered in the U.S. and other countries. App Store is a service mark of
Apple Inc. ANZ goMoneyTM for AndroidTM is only available in Google PlayTM.
Android and Google Play are trademarks of Google Inc.
You need Adobe Reader to view PDF files. You can download Adobe Reader free of charge.