December 2012 - Important message for Internet Banking customers
Customers have recently been targeted with a hoax email leading to a false bank website.
The email asks ANZ customers to confirm their account information by clicking on the link provided in the e-mail. When the link in the email is clicked on, a false ANZ Internet Banking log on page appears and account information may be captured if details are entered.
Under no circumstances should you click on the link, reply to the email or provide any of the requested details.
Always ensure that you only log on to ANZ Internet Banking by typing www.anz.com/papuanewguinea into the address bar, rather than following links to the ANZ website. Disregard any emails that advise otherwise.
Customers who have received the email and are concerned should contact the ANZ Internet Support Centre on +675 321 1079.
Read our internet protection tips.
Example hoax email: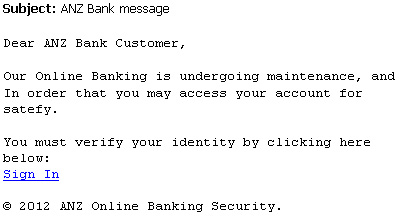 Important Message for Credit Card Holders
CUSTOMER NOTICE
FRADULENT CREDIT CARD TRANSACTIONS
Dear Customers,
We are experiencing increased fraud activity against PNG credit cards in certain overseas geographies.  As a precautionary measure to protect your funds ANZ is blocking transactions done with or through certain overseas merchants in select countries, including (but are not limited to), the United Kingdom, United States and China.
ANZ Access card holders are not affected.
If you are experiencing any in-convenience regarding your transactions being declined or need assistance please call ANZ Help line ,+679-3223600 for international callers or 1801022 for Domestic callers in PNG.
We would like to assure you that these measures are temporary and every effort is being made to minimize disruption.
We apologise for any inconvenience caused and look forward to your assistance in protecting against fraud.