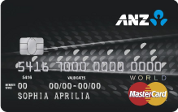 ANZ MasterCard World Credit Card
Discover your premium lifestyle


Free one movie ticket every Thursday at IMAX & 8 The Premiere XXI Theatres in Jakarta, Bandung & Surabaya for every purchase of movie ticket with ANZ MasterCard World.
Kota
Theatre Locations
Jakarta
The Premiere Emporium Pluit XXI
The Premiere Gading XXI
The Premiere Puri XXI
The Premiere Plaza Senayan XXI
The Premiere Pondok Indah 2 XXI
IMAX Gandaria City XXI
Bandung
The Premiere Ciwalk XXI
Surabaya
The Premiere Ciputra World XXI
The Premiere Grand City XXI
1. ANZ Credit Card should be in an active and non block condition.
2. Valid for basic and supplementary ANZ MasterCard World card.
3. Valid every THURSDAY in selected theatres mentioned above.
4. Get 1 free movie ticket on every purchase of 1 movie ticket, maximum free tickets entitled per day per card is 2 tickets (total 4 tickets).
5. Program period: 25 April 2013 - 31 March 2014.
6. Terms and conditions apply and subject to change at any time.
Complimentary 1 food and 1 beverage at 11 Starbucks Airport Stores across 8 major cities in Indonesia.
City
Airport Name
Starbucks Stores
Jakarta
Soekarno-Hatta
Starbucks Airport Store T-1A
Starbucks Airport Store T-2D
Starbucks Airport Store T-2F
Starbucks Airport Store T-3
Bali
Ngurah Rai
Starbucks Airport Store Bali
Balikpapan
Sepinggan
Starbucks Airport Store Balikpapan
Batam
Hang Nadim
Starbucks Airport Store Batam
Makassar
Hasanuddin
Starbucks Airport Store Makassar
Medan
Polonia
Starbucks Airport Store Medan
Palembang
Sultan Mahmud Badaruddin II
Starbucks Airport Store Palembang
Surabaya
Juanda
Starbucks Airport Store Surabaya
Terms and conditions
1. ANZ Credit Card should be in active and non block condition.
2. Minimum monthly billing stated on previous period statement date is Rp 1 million.
3. Maximum complimentary food and beverage is 1x per day per card (maximum 4x per calendar year).
4. Strictly valid for dine-in (except at Starbucks Airport Store T-1A).
5. If customer accesses more than the maximum quota as regulated in point 2 above, applicable charge will be directly debited to customer's Credit Card.
6. Terms and conditions apply and subject to change at any time.
ANZ MasterCard World card allows you to convert your spending into up to 0% 12-month installment at more than 200 luxurious boutiques in Indonesia.
ANZ MasterCard World gives you more privileges than any Gold card, with its high purchasing power and flexible credit limit that you may extend, simply by calling our 24-Hour ANZ Call Centre 0804 1000 269 or (62 21) 2758 6777.
Turn wherever you are into rewarding moments. Discover an exciting world of ANZ Spot Privileges anywhere, all year long. Enjoy up to 30% off at 500 ANZ Spot in Indonesia & 2,200 ANZ Spot in Asia Pacific.
ANZ Rewards
Collect your rewards points through purchases using ANZ credit card and redeem them with exclusive gifts from our rewards catalogue.
Learn more about ANZ Rewards.
TeleShopping and TeleTravel
ANZ TeleShopping provides 0% interest installment facility with period up to 12 months for variety range of products from electronics to households. Contact our 24-Hour ANZ Call Centre, 0804 1000 269 or (62 21) 2758 6777 for reservations.
As a further benefit, you can also enjoy a 0% 3-month installment facility for all your travel plans with ANZ TeleTravel on (021) 351 8778.
Automatic Travel Insurance Coverage
Enjoy trouble-free travelling. You are automatically covered with travel accident and travel inconvenience insurance every time you purchase your airline tickets only by using an ANZ MasterCard Platinum.
Fund transfer service and cash advance service
You can make fund transfers from your ANZ credit card account to your other accounts at any bank in Indonesia just by calling our 24-Hour ANZ Call Centre.
For your convenience, you can also withdraw cash from all ATMs with a MasterCard Cirrus or a Visa Plus sign all around the world.
Annual fees
ANZ MasterCard World Basic: Rp. 700,000
ANZ MasterCard World Supplement: Rp. 300,000
You need Adobe Reader to view PDF files. You can download Adobe Reader free of charge.