How we protect you
We take the security of your personal and account information seriously. That's why we've installed a range of security measures to ensure that your transactions and personal information are protected. Find out more below.
Encryption
Encryption is turning words and numbers into a coded language. Encryption prevents unauthorised users from being able to change or read your data. ANZ encrypts your personal data using 128-bit SSL (Secure Socket Layer) encryption technology. You can identify whether the Internet Banking session is secure or encrypted when you see https:// in the Address bar and/or when you see a padlock in the bottom right corner of the browser window. You can double click on the padlock to view the Digital Certificate i.e. the electronic signature to view details. Please find below a sample for this.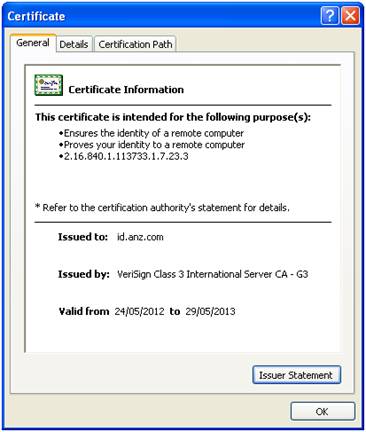 Extended validation certificates
Our online service now offers additional security in the form of extended validation certificates to improve online security and make your banking experience even easier.
With this feature you can be sure you are on a legitimate ANZ Internet Banking website by simply looking for the green address bar displaying 'id.anz.com' or 'PT Bank ANZ Indonesia'  in your browser (this may be truncated due to space restrictions).
Browsers that support extended validation certificates:
Microsoft Internet Explorer 7 and above
Mozilla Firefox 3 and above
Safari 3.2 and above
Google Chrome.
ANZ's Extended Validation certificates are issued by VeriSign - a leading internet authentication organisation. This provides an authoritative view on the authenticity of the website that you can trust.
Firewalls
ANZ employs a firewall mechanism to prevent unauthorised access to and from the network.
Account aggregation
As a customer you can also play a big part in protecting your details and making sure your safe online. Find out more about our tips for protecting yourself online.