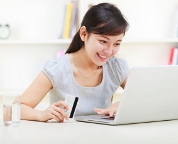 Enjoy free, simpler and secure access to your accounts with ANZ Internet Banking whether you are a banking customer or ANZ credit cardholders.
Manage your accounts
Manage your accounts more efficient and easier with ANZ Internet Banking. All your accounts will be displayed within single view including your credit card accounts via linkage menu.
FREE and REAL TIME fund transfer (to ANZ or other banks)
Enjoy faster and FREE fund transfer to ANZ accounts or/and to all domestic banks that connected via ATM Bersama/Prima network. Find out list of banks within ATM Bersama/Prima Network.
Standing Instruction Feature
Need to make monthly loan payments or transfers? Take advantage of standing instruction feature in ANZ Internet Banking to automate your regular transactions! Learn how to set up Standing Instruction in Internet Banking.
ANZ Credit Card Payment
Perform ANZ credit card payment through Internet Banking.
Check balance and monitor your credit card spending
Monitor all your credit cards spending with just few clicks away with ANZ Internet Banking. Real time monitoring made it easy to check transactions that you just perform.
Online Installment Conversion - New
Convert your transactions to installment anytime and anywhere. Enjoy low installment rates and various installment plan that suit your needs. Learn more about installment conversion promo.
Registration
Register ANZ Internet Banking with 2 easy steps below:
1. Contact 24-Hour ANZ Call Centre to get registration code.
2. After you receive registration code, start registration process and create your ANZ Internet Banking User ID and Password.