ANZ Moneyline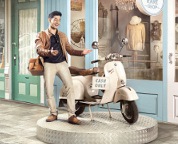 Flexible line of cash for all of your needs, whenever you need it.
Enjoy financial freedom to fulfil all of your needs and  to grab hold of your best opportunities both planned and unplanned with ANZ Moneyline.
Extra cash of up to Rp 200 million
Ready-to-use cash loan at anytime for all of your needs.
Flexible Payment Arrangement
Have the freedom to choose your ANZ Moneyline card payment; with Revolving Rate, Fixed Installment or combination of both.
Free Administration Fee
Free annual fee
Free cash withdrawal fee
Free transfer fee
Free installment fee
Free early payoff fee (for installment)
Wide ATM Network
Wide array of ATM network (ATM ANZ, ATM Bersama and ATM Prima) across Indonesia.
24-Hour ANZ Call Centre
To assist you in all of your ANZ Moneyline needs such as, cash transfer to a bank account of your choice*, installment conversion*, billing statement information, etc.
REVOLVING RATE
ANZ Moneyline's revolving rate is calculated by accumulating daily interest rate from the day transaction is made until the day full payment is received by the Bank. Enjoy rate as low as 0.1% per day!
FIXED INSTALLMENT
Fixed Installment calculation enables you to manage and plan your financial outflow:
Flexible choices of loan tenures from 3, 6, 9, 12, 18, 24, 36, 48 to 60 months
Enjoy discount on interest charges with rate as low as 0.99% per month
Easy conversion process at no extra cost. 

Call 24-Hour ANZ Call Centre (area code) 500269 for the conversion process.
Indonesian citizen, 21 – 55 years of age
Earning minimum annual income of IDR 36 million (gross salary for employee or net income for entrepreneur/professional) or minimum credit card limit of IDR 4 million.
| No. | Documents needed | Employee | Entrepreneur | Professional |
| --- | --- | --- | --- | --- |
| 1. | Application Form | | | |
| 2. | Copy of ID / Passport | | | |
| 3. | Copy of NPWP (personal) | | | |
| 4. | Copy of other credit card1/salary slip* | | | |
| 5. | Copy of bankbook | | | |
| 6. | Past 3 months bank account statement** |   | | |
| 7. | Copy of SIUP / TDI / TDP / Medical License# |   | | |
*Front copy only. Minimum cards membership of one (1) year.
**Salary slip must be computer print or carbonized copy. If not, please attach confirmation letter from company or the last three (3) months bank account (legitimate) which display monthly salary.
#Only for submission without credit card.  
Fees
Charges
Late Payment Fee
6% of monthly outstanding transaction or
minimum IDR 150.000
Print of monthly statement1
IDR 10.000 per monthly statement
Missing / damaged / stolen card
IDR 50.000
Rejected cheque / auto-debit payment
IDR 50.000
Stamp duty
IDR 6.000
1Only of the last 3 months.
Administration Fee
| Type | Charges |
| --- | --- |
| Annual Fee | Free |
| Cash Advance Fee | Free |
| Transfer Fee | Free |
| Early Payoff Fee | Free |
| Installment Fee | Free |
What is ANZ Moneyline's daily interest rate?
ANZ Moneyline's daily interest rate is 0.1%. It is charged only on the amount that you use.
How does ANZ Moneyline calculate total interest rate for its transactions?
ANZ Moneyline calculates total interest rate on the accumulation of daily interest rate from the date cash transaction or cash transfer is made up to the date full payment is received by the Bank.
What is the maximum amount of cash that I can withdraw from the ATM?
The maximum amount of cash that you can withdraw will depend on the card limit that is approved and the policy of ATM's issuing bank. At the same time, Bank Indonesia (BI) places a maximum of IDR 10 million cash withdrawal per day at ATMs across Indonesia.
What can I do if I want to take out more than IDR 10 million in the same day?
To withdraw above IDR 10 million from your ANZ Moneyline account, you can contact our 24-Hour ANZ Call Centre (area code) 500269 and give instruction to transfer your ANZ Moneyline card balance to your preferred bank account. Our call centre officer will assist you through the cash transfer process.
Can I use my ANZ Moneyline card to pay purchases at retail merchants?
No, you can not swipe your ANZ Moneyline card through an Electronic Draft Capture (EDC) machine.
How do I make payment for my ANZ Moneyline card usage?
Payments can be made through a multiple channels such as auto debit, in-person payment at ANZ branch, cheque, ATM, phone banking, SMS banking and Internet Banking.
Payments made at ATM Bersama or ATM Prima using menu transfer (bank code ANZ 061) before 14.00 WIB will be booked by ANZ on the same day. Payments made using other channels take up 1 – 2 processing days until they are booked by the Bank. Please note that daily interest rate will continue to be charged until payment is received by the Bank.
What happens to my ANZ Moneyline card limit after I had made payment for my card's usage?
Once ANZ receives your payment, your ANZ Moneyline card limit will increase up to the amount that you have paid.