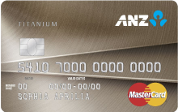 Get 5% Online Cash Back for ALL your Online purchases using ANZ MasterCard Titanium.
Program Period: March 2014 - February 2015.
Terms & Conditions Apply*.
Enjoy FREE Online Shopping for anything (including fashion, gadget, games/music, ticket) using ANZ Reward Points. Contact 24-Hour ANZ Call Centre to use feature Online & Redeem.
Get special offers and save until 15% at our selected online partners
Get the credit card transaction detail information realtime through ANZ Internet Banking.
Convert the credit card transaction to installment via ANZ Internet Banking.
Alternate and easy access to get the billing information with e-Statement.
Online credit card promo through e-Newsletter, Mobile Apps or website.
Find out more about online access.
Turn wherever you are into rewarding moments. Discover an exciting world of ANZ Spot Privileges anywhere, all year long. Enjoy up to 30% off at 500 ANZ Spot in Indonesia & 2,200 ANZ Spot in Asia Pacific.
To show our true appreciation, we reward our loyal customers with a wide range of high quality products. Collect your rewards points through purchases using ANZ credit cards and redeem them with exclusive gifts from our rewards catalogue.
Learn more about ANZ Rewards.
Fund Transfer and Cash Advance Service
You can make easy fund transfers from your ANZ credit card account to your other accounts at any bank in Indonesia just by calling our 24-Hour ANZ Call Centre.
For your convenience, you can also withdraw cash from all ATMs with a MasterCard Cirrus or a Visa Plus sign all around the world.
ANZ TeleShopping provides 0% interest installment facility with period up to 12 months for variety range of products from electronics to households. Contact our 24-Hour ANZ Call Centre for reservations.
As further benefit, you can also enjoy a 0% 3-month installment facility for all your travel plans with ANZ TeleTravel on (021) 93910269.
Annual Fees
Basic Card : Rp. 300,000
Supplement Card : Rp. 150,000
Latest Update: 22 January 2014
Cash back given is 5% for ALL online transaction.
Online transaction is all retail transactions using internet and the payment processed by merchant through Visa / MasterCard.
Only applicable for ANZ Titanium (basic + supplementary), including ANZ MasterCard Gold cardholders who has not received ANZ Titanium card, replacement from  ANZ MasterCard Gold.
Maximum cash back per month: Rp 300,000.
Minimum number of retail transaction non online at the month: 5x. Category of retail transactions is all transactions except cash advance, cash transfer, bill payment, interest / fees, installment.
Cardholder need to claim cash back by SMS to 9333: ANZ<space>Titanium#DDMMYY<dob>#last 4digits ANZ Titanium.
Program Period: 1 March 2014 to February 2015.
You need Adobe Reader to view PDF files. You can download Adobe Reader free of charge.