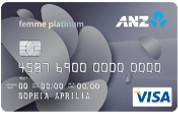 ANZ Femme
The finest card for every woman

This card available in two options: ANZ Femme Platinum & ANZ Femme
Exclusive for ANZ Femme Platinum cardholders, earn your ANZ Reward Points faster! Get 3x ANZ Reward Points for every Rp 10,000 transactions at Department Store, Salon, Spa and Fitness Centre anywhere in the world.
Enjoy double voucher privilege to redeem reward points for selected salon and spa.
Reward redemption privilege
Voucher type
(sample)
Points Required
ANZ Femme Platinum & Femme
Other ANZ Credit Cards
MAP IDR 100,000
3,300 point* = 2 Voucher
3,300 point* = 1 Voucher
The Body Shop
IDR 100,000
3,300 point* = 2 Voucher
3,300 point* = 1 Voucher
*Required point rewards change at any time without prior notice
Learn more about ANZ rewards.
0% 3-month education installment

Enjoy 0% 3-month installment facility for education fees at all formal and non-formal education anywhere in the world. Please refer to payment methods below to utilise this feature:
A. Payment via EDC machine
Swipe your credit card on EDC machine at eligible education institutions and convert your transaction to installment via ANZ Internet Banking or 24-Hour ANZ Call Centre, or
B. Payment via Fund transfer
ANZ will transfer tuition fee directly to institution's account or to your personal account which then will be billed to your ANZ Femme Card
Request for installment program through 24-Hour ANZ Call Centre
ANZ will transfer funds to insitution or your personal account
ANZ will bill the amount to your ANZ Femme Card.
0% up to 12 months installment facility at more than 200 branded boutiques in Indonesia
ANZ Spot
Turn wherever you are into rewarding moments. Discover an exciting world of ANZ Spot Privileges anywhere, all year long. Enjoy up to 30% off at 500 ANZ Spot in Indonesia & 2,200 ANZ Spot in Asia Pacific.
ANZ rewards
To show our true appreciation, we reward our loyal customers with a wide range of high quality products. Collect your rewards points through purchases using ANZ credit cards and redeem them with exclusive gifts from our rewards catalogue.
Learn more about ANZ rewards.
Fund transfer and cash advance service
You can make easy fund transfers from your ANZ credit card account to your other accounts at any bank in Indonesia just by calling our  24-Hour ANZ Call Centre.
For your convenience, you can also withdraw cash from all ATMs with a MasterCard Cirrus or a Visa Plus sign all around the world.
Teleshopping and teletravel
ANZ TeleShopping provides 0% interest installment facility with period up to 12 months for variety range of products from electronics to households. Contact our 24-Hour ANZ Call Centre for reservations.
As further benefit, you can also enjoy a 0% 3-month installment facility for all your travel plans with ANZ TeleTravel on (021) 93910269.
Annual fees
ANZ Femme Platinum
Basic: IDR 550,000
Supplement: IDR 275,000.
ANZ Femme
Basic: Rp.200,000
Supplement: Rp.100,000.