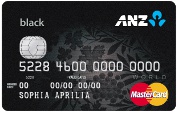 ANZ Black
Discover the finest things in life

ANZ Black Card Features
2x Mileage Redemption
You also get a chance to fly 2x faster to your  dream destination. Simply redeem your ANZ Reward Points & enjoy 2x mileage. Up to 60 participated airlines partners is available to be redeem.
ANZ Installment
3-month 0% interest installment. Reward your hard work and treat your loved ones with quality products from international brands with  ANZ Black. Shop at more than 200 luxurious boutiques around Indonesia all year long with ANZ Black & enjoy up to 12 months 0% instalment.
1 Movie Ticket For FREE

Free one movie ticket every Thursday at IMAX & The Premiere XXI Theatres in Jakarta, Bandung, Surabaya & Medan for every purchase of movie ticket with ANZ SPB Infinite, Black, World & Platinum card.
City
Theatre locations
Jakarta
The Premiere Emporium Pluit XXI
The Premiere Gading XXI
The Premiere Puri XXI
The Premiere Plaza Senayan XXI
The Premiere Pondok Indah 2 XXI
The Premiere Lotte Shopping Avenue XXI
The Premiere Bay Walk Pluit XXI
The Premiere Alam Sutera XXI
IMAX Gandaria City XXI
Bandung
The Premiere Ciwalk XXI
Surabaya
The Premiere Ciputra World XXI
Medan
The Premiere Centre Point XXI
ANZ Credit Card should be in an active and non block condition.
Valid for basic and supplementary ANZ SPB Infinite, Black, World & Platinum card.
Valid every THURSDAY in selected theatres mentioned above.
Get 1 free movie ticket on every purchase of 1 movie ticket, maximum free tickets entitled per day per card is 2 tickets (total 4 tickets).
Valid until 30 April 2015.
Terms and conditions apply and subject to change at any time.
Travel Protection for you and your family
24-Hour Worldwide Family Medical Benefit
Stay safe & be protected during your holiday. Simply purchase your flight tickets with ANZ Black and you will be covered with 24-Hour Worldwide Family Medical Benefit.


24-Hour Worldwide Family Medical Experts
Provide medical advice from specialist doctors. This benefit can be accessed worldwide using Allianz 24 hour call centre +62 21 2926 9999 in Indonesia or Allianz Global Assistance at +65 6535 5833 outside Indonesia.


24-Hour Worldwide Medical Evacuation
is at your service with medical evacuation with coverage up to Rp 10 billion for critical conditions when no medical facility is available. Overseas Emergency Medical Expenses serves protection to you and your immediate family with the coverage of up to Rp 600 million for personal & Rp 1.2 billion for family in case of overseas hospitalization during your overseas trip.

Please contact 24-Hour ANZ Call Centre if you need a copy of the policy that you can use as one of the requirement of your travel visa lodgement.


Travel Accident and Travel Inconvenience Insurance
As an ANZ Black Cardholder, you can rest assure of being covered up to Rp 1 billion against air travel accidents and inconveniences due


Coffee lovers can enjoy special privileges while waiting for your flight. Enjoy complementary food and beverages for two persons at selected Starbucks Airport Stores. This offer stands if you have a minimum bill of Rp 1,000,000 on the previous billing statement.
Passengers travelling in Indonesia also may enjoy complimentary access to selected airport lounges across major cities in Indonesia.
Please note that you are required to have a minimum bill of Rp 1,000,000 in the previous billing statement to enjoy the complimentary access to the lounges.
Find out the list of Airport executive lounge and Starbucks Coffee airport.
Both Basic and Supplementary ANZ Black Cardholders can enjoy unlimited access at exclusive airport lounges in 56 countries around the world through Veloce Lounges network. Visit veloce website here or contact our 24-hour or contact our call centre at 0804 1000 269 or (62 21) 2758 6777 for more information regarding the Veloce Lounge.
ANZ Spot
Turn wherever you are into rewarding moments. Discover an exciting world of ANZ Spot Privileges anywhere, all year long. Enjoy up to 30% off at 500 ANZ Spot in Indonesia & 2,200 ANZ Spot in Asia Pacific. Find out more about our latest offers and promotions.
ANZ Rewards
Your ANZ SPB Infinite rewards you every time you use your Card anywhere, home and abroad. Collect 1 ANZ Reward Point for every Rp 10,000 spent & redeem your accumulated ANZ Reward Points to the wide range of exclusive gifts. From home appliances, gadgets, mileage, voucher, charities to "Shop & Redeem".
"Shop & Redeem" gives you the flexibility to get the gift of your choice anywhere and pay off using your ANZ Reward Points. Learn more about ANZ Rewards.
ANZ TeleShopping
Shopping never gets this enjoyable with 0% up to 12 months instalment for various products, from electronics, gadgets to household appliances. Call 0804 1000 269 or (62 21) 2758 6777 for unforgettable shopping experience.
ANZ TeleTravel
Planning your holiday is easy. Simply contact ANZ TeleTravel at (021) 93910269 and our TeleTravel agents are ready to assist you in organizing all your travel needs. Enjoy free surcharge and 0% 3 month instalment with your ANZ Black.
ANZ TeleTicket
Reserve your Blitmegaplex movie ticket conveniently or you also can enjoy free tickets by redeeming your ANZ Reward Points. Dial (021) 275 88990 for ANZ TeleTicket (10.00 am-07.00 pm, Monday-Sunday, except public holidays). Automatic Travel Insurance Coverage.
Annual Fees ANZ Black Card
Basic: Rp 3,500,000
Supplement: Rp 1,500,000.
To find out more, contact our 24-Hour ANZ Call Centre.
You need Adobe Reader to view PDF files. You can download Adobe Reader free of charge.