Now you can retrieve your ANZ Credit Card information directly in your mobile phone. Available 24 hour using any mobile phone, simply by sending SMS to 3269
Features & SMS Keywords
Features
SMS Format
Mini statement
Bill<space>xxxxxx
Balance
Balance<space>xxxxxx
Reward point
Point<space>xxxxxx
Mileage (for ANZ Travel Card)
Mileage<space>xxxxxx
xxxxxx: last 6-digits of your credit card number
Example: SMS command to check credit card outstanding balance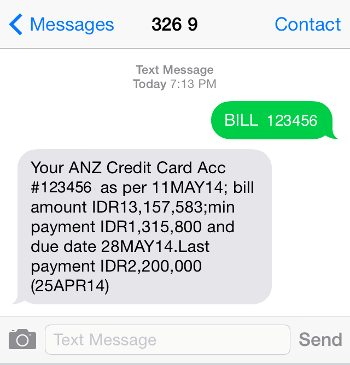 Frequently Asked Question (F.A.Q)
Do I need to perform registration to use this service?
Registration is not required, your details has been recorded in our system.
Please ensure that your correct mobile phone number is already registered in our system. If don't please contact 24-Hour ANZ Call Centre 0804 1000 269 to update your phone number.
My mobile phone network provider carrier is CDMA (Code Division Multiple Access); can I still access this service?
Currently this service is only available to three (3) GSM (Global System for Mobile Communication) network providers, which are Indosat, Telkomsel and XL Axiata.
Do I get charged to use this service?
Yes, charges will vary depending on your mobile network provider. SMS tariff ranging from IDR 550 – IDR 900 (tax inclusive).
Is there any limit on how many times I can send SMS daily?
Are the keywords case-sensitive?
No. You can type with lower or upper case. "BILL", or "Bill", or "bill", or "biLL", any case will work.
Is the data provided through the SMS Card Info are real time?
The data provided through this service is as-of previous day. Date of the data is mentioned in the SMS response. For real time data, please use ANZ Internet Banking.
Can I access this feature overseas/outside Indonesia?
No, due to network operator limitation, ANZ SMS Card Info is only available within Indonesia.
Can my supplement card holders use this service?
Yes, but you should use main card holder credit card number in the SMS. Information on the Credit limit, balance and billing for both main cardholder and supplement card holders is the same.
Is this service available in Bahasa?
Yes, this service is also available in Bahasa. To access the Bahasa version, you will need to type different key words. Please follow the list below:
Fitur & SMS Keyword
Fitur
Format SMS
Mini statement
Tagihan<spasi>xxxxxx
Balance
Saldo<spasi>xxxxxx
Reward point
Poin<spasi>xxxxxx
Mileage (for ANZ Travel Card)
Mil<spasi>xxxxxx
xxxxxx: 6 digit terakhir kartu kredit Anda
What if I forgot the format of the SMS Command?
You can always contact our 24-Hour ANZ Call Center 0804 1000 269 or (62 21) 2758 6777 for direct assistance.