Subhas DeGamia – Chief Executive Officer, India, ANZ
Subhas DeGamia has been India Country Head for ANZ since 2008 leading ANZ's non-funds based advisory business. In 2011, he was named Chief Executive Officer of the bank in India with the commencement of ANZ's banking operations in the country. He has overall responsibility for ANZ's business growth in India. 
Subhas joined ANZ in 1989 and has more than twenty-five years of experience in financial markets and institutional banking including senior leadership roles with ANZ in New Zealand, Australia, India and across Asia and in business advisory with PricewaterhouseCoopers.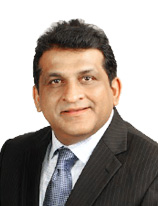 He has a strong and dynamic record of building and growing large customer oriented businesses, large scale business integration and transformation, and business expansion in diverse and growth markets.
Prior to his role as India Country Head, he was Joint Head of Markets, Asia, based in Singapore, where he was directly responsible for Institutional and Corporate Sales, Risk Solutions and Partnerships for ANZ's Markets business.
Subhas has assisted clients internationally in the management of financial risk, developing structured hedging strategies for cross border exposures as well as in prudent asset and liability management. His previous employment with PricewaterhouseCoopers also enabled him to undertake business advisory projects in New Zealand and the Pacific.
Subhas holds an MBA (Exec) from Melbourne Business School, CA and Diploma in Banking. He is a fellow of Financial Services Institute of Australasia (FINSIA), and a member of New Zealand Institute of Chartered Accountants (NZICA) and Australian Institute of Company Directors (AICD).
Subhas is married with three children and is a sports enthusiast.
Key dates
May 2011 - Chief Executive Officer, ANZ India
2008 - Chief Executive Officer, ANZ Capital India
2005 - Joint Head of Markets, Asia
2003 - Regional Head of Foreign Exchange, Asia
2000 - Head of Foreign Exchange Institutional Sales, Australia
1998 - Head of Foreign Exchange, India
1995 - Head of Treasury Risk Management Services, New Zealand
1989 - Joined ANZ, New Zealand.