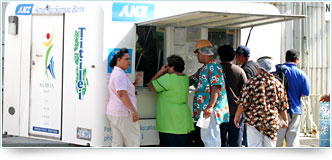 Mobile Banking in American Samoa was an idea that came from the local staff during an idea generating workshop held in early 2000.

Since then, we began our mobile banking proposition on 1 April 2001 on our five year anniversary date of joining the ANZ Banking Group. The two vans, named "Titiula" and "Titilei" by a local employee competition, travel six days a week – primarily to remote villages – and are present twice a week at the StarKist and Van Camp tuna canneries where over 5,000 employees cash their pay checks weekly.

As local residents continuously praise ANZ Amerika Samoa Bank™ for its support of local community activities, the mobile banks are another way we're taking the bank to customers and making their lives much easier.
Mobile van locations (refer to local weekly newspaper schedules).