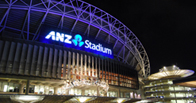 The things that matter to ANZ are the same things that matter to our customers and our staff - like being an active and positive member of the communities in which we live and work.
Sponsorship is one of the many ways we contribute to these areas, both nationally and in local communities. We're involved in a diverse range of activities that reflect the values of our brand, our staff and our desire to make a positive difference in people's lives.
Through partnering with organisations and events, we aim to facilitate meaningful engagement opportunities for our customers, the community and our staff.
Learn about our ANZ Tennis Hot Shots Community Grants Program at ANZ Community Grants.