Steve Bellotti
Managing Director, Global Markets and Loans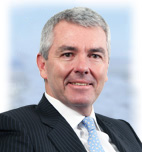 Steve has global operational and strategic accountability for ANZ's Global Markets and Loans business.

He has worked in leadership roles in markets for 25 years across all asset classes, managing bonds, foreign exchange, rates, credit, equities, derivatives, sales and trading for Merrill Lynch in nine successive Managing Director positions over 13 years.

Steve has transformed and led large teams in many of his roles, and has a reputation for building high-performing, motivated teams which deliver strong results.

He has built a number of large complex capital markets operations for global banks, including Merrill Lynch and Dresdner Kleinwort in London, New York, Sydney, Hong Kong and Singapore.

Before ANZ, Steve's most recent roles included MD – Head of European Debt Trading and Sales, Derivatives, Debt Capital Markets and Structured Finance for Merrill Lynch, and MD – Global Head of Capital Markets for Dresdner Kleinwort Group. Originally from Queensland, Steve is married with two children, and moved back to Sydney from overseas to join ANZ in 2010.
Key dates
Date
Event
Current
ANZ Bank, Managing Director, Global Markets and Loans
March 2010 - November 2012
ANZ Bank, Managing Director, Global Markets
2000 - 2010
Blue Sky Capital, LLC, Founder/Managing Director
2004 - 2006
Dresdner Kleinwort Group Ltd, London
Managing Director, Global Head of Capital Markets
1987 - 2000
Merrill Lynch, London, New York, Sydney
1998 - 2000
Merrill Lynch & Co., Inc, London
Managing Director - Head of European Debt Trading and Sales, Derivatives, Debt Capital Markets and Structured Finance
Managing Director – Global Head of Foreign Exchange Trading and Sales
1997 - 1998
Merrill Lynch & Co., Inc, Hong Kong/Singapore
Managing Director - Global Head of Cross Markets Trading Group Managing Director – Global Co-Head of Local Currency, Credit and Interest Rate Trading
Managing Director – Global Head of Foreign Exchange Trading and Sales
Managing Director - Global Head of Local Currency, Credit and Interest Rate Trading (Emerging Markets)
Managing Director – Global Head of Foreign Exchange Trading and Sales
1995 - 1996
Merrill Lynch & Co., Inc, New York
Managing Director - Global Head of Foreign Exchange Trading
1992 - 1995
Merrill Lynch International Limited, London
Managing Director - Head of European Fixed Income, Derivatives, Trading and Sales
Managing Director - Head of International (Non-Dollar) Bond
1987 - 1992
Merrill Lynch International (Australia) Limited, Sydney
Managing Director - Head of Australian Fixed Income Trading and Sales
Director - Head of Australian Government Bond Trading
1984 - 1987
Morgan Guaranty Australia Limited, Sydney
Vice President, Senior Dealer Money Markets and Fixed Income Trading