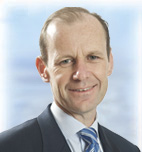 Chief Financial Officer
Australia and New Zealand Banking Group Limited
ANZ Centre
833 Collins Street
Docklands VIC 3008
Australia
Shayne Elliott was appointed Chief Financial Officer of ANZ in June 2012.
Shayne is responsible for all aspects of Finance as well as Group Strategy, Legal, Treasury, Investor Relations and Mergers and Acquisitions.
Prior to this role, Shayne was Chief Executive Officer, Institutional, overseeing all businesses that deal with ANZ's large business, corporate and institutional customers.
Shayne was previously with Citigroup where he held various senior positions across geographies and business sectors over the course of 20 years. Some of the roles he held during his time at Citigroup include: CEO Global Transaction Services Asia Pacific, CEO Corporate Bank & Country Corporate Officer Australia/NZ, CEO Egypt, VP Strategic Planning New York, Head of Investor Derivative Sales London, and Head of NZ Derivatives Sales and Trading.
Shayne holds a Bachelor of Commerce, Management Studies and Finance from the University of Auckland, New Zealand.
Last updated: February 2014.
Key dates
June 2012
Appointed Chief Financial Officer, ANZ

April 2009
Appointed as Chief Executive Officer, Institutional, ANZ
March 2006
Chief Operating Officer, EFG Hermes
April 2003
CEO, Global Transaction Services Asia Pacific, Citigroup
February 2001
CEO, Corporate Bank Australia/NZ & Country Corporate Officer, Citigroup
September 1998
CEO, Egypt & Country Corporate Officer, Citibank
May 1997
Vice President, Strategic Planning, Citibank New York
November 1992
Head of Investor Derivative Sales, Citibank London
May 1992
Head Trader, US$ Swaps, Citibank London