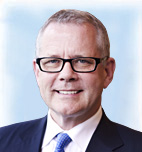 Chief Executive Officer, Australia
Australia and New Zealand Banking Group Limited
ANZ Centre
833 Collins Street
Docklands VIC 3008
Australia
Philip Chronican is one of Australia's most experienced bankers with a career that spans more than 30 years in the industry.
As Chief Executive Officer Australia, Philip is responsible for ANZ's Australian retail and commercial businesses which service more than six million customers. He also leads ANZ's retail segment on a global basis.
Prior to joining ANZ in 2009, Philip had a long career at Westpac Banking Corporation in a number of roles including Group Executive of the Institutional Bank and Group Chief Financial Officer. These include specific responsibility for Westpac's Asian and Pacific Island businesses.
Philip is an active supporter of industry initiatives to improve the standards of transparency and fairness that customers and the community should expect from their bank. He's one of the original subscribers to the Banking and Finance Oath.
In addition to his ANZ commitments, Philip is a Director of New South Wales Treasury Corporation (NSW Tcorp) and Chairman of the NSW Tcorp's Audit and Risk Committee.
His professional qualifications include a Bachelor of Commerce with Honours from the University of Otago in New Zealand and a Master of Business Administration with Distinction from the International Management Institute, Geneva.
Philip enjoys the theatre and a wide range of sports, including golf, cycling and skiing. He also has an interest in supporting medical research. For many years he has been an active participant in the annual Ride to Cure Diabetes to provide support, profile and funding for the Juvenile Diabetes Research Foundation.
Key dates:
November 2009
Appointed Chief Executive Officer, ANZ Australia
December 2005
Appointed Group Executive, Westpac Institutional Bank
February 2001
Appointed Chief Financial Officer, Westpac Banking Corporation
1987
Moved to Sydney with Westpac Banking Corporation
1982
Joined Westpac Banking Corporation in New Zealand
1979
Joined the Treasury, New Zealand Government