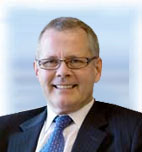 Chief Executive Officer, Australia
Australia and New Zealand Banking Group Limited
ANZ Centre
833 Collins Street
Docklands  VIC  3008
Australia
Philip Chronican is Chief Executive Officer, Australia.
Philip oversees the Australian geography and is specifically responsible for the bank's retail and commercial business and customers in Australia, as well as leading ANZ's retail segment on a global basis.
Philip joined ANZ in November 2009. Prior to this, Philip was Group Executive for Westpac Institutional Bank since 2005 and Chief Financial Officer for Westpac Banking Corporation between 2001 and 2005. Philip had a long career with Westpac Banking Corporation which included various roles in retail banking, capital markets, treasury, economics and strategy.
In addition to his ANZ commitments, Philip is a Director of New South Wales Treasury Corporation (NSW Tcorp) and Chairman of NSW TCorp's Audit and Risk Committee.
Philip holds a Bachelor of Commerce with Honours from the University of Otago in New Zealand and a Master of Business Administration with Distinction from the International Management Institute, Geneva.
Last updated: March 2013
Key dates:
November 2009 
Appointed Chief Executive Officer, Australia
December 2005
Appointed Group Executive, Westpac Institutional Bank
February 2001 
Appointed Chief Financial Officer, Westpac Banking Corporation
1982 
Joined Westpac Banking Corporation
1979 
Joined the Treasury, New Zealand Government