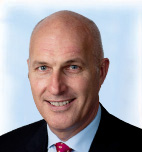 Chief Risk Officer
Australia and New Zealand Banking Group Limited
ANZ Centre
833 Collins Street
Docklands VIC 3008
Australia.
Nigel Williams is ANZ's Chief Risk Officer.
He is responsible for ANZ's global risk management infrastructure, overseeing our global Credit, Market and Operational Risk and Compliance teams as well as risk related strategies, policies and processes.
Nigel is a career banker with more than 27 years experience in Australia, New Zealand and Asia. Most recently he was Managing Director of Institutional Australia and has previously held the role of Managing Director Institutional, Corporate and Commercial Banking in New Zealand. He joined ANZ in 2004 following the acquisition of The National Bank of New Zealand where he held various Credit, Markets, Treasury and Operational roles within the Lloyds TSB Group.
Nigel graduated from the University of Otago with a Bachelor of Commerce with majors in Marketing, Accounting and Finance and has also attended leadership and strategy training at the University of Michigan, USA and Oxford University, England.
Nigel is a past member of the 2008 NZ Government Taskforce on Capital Markets Development. He is also a former Director of NZX Limited, E*TRADE Australia Limited and Australian Financial Markets Association, as well as a past Board member of INFINZ and the AUT Business School.
He is a member of New Zealand Institute of Directors, and in 2009 was awarded a fellow of INFINZ.
He is also a member of the Art Gallery NSW President's Council, a past Chairman of the City Art Gallery Foundation in Wellington and a past Chairman of Wellesley College.
Key dates
December 2011
Appointed Chief Risk Officer, ANZ
November 2008
Appointed Managing Director, Australia, Institutional
September 2006
Appointed Managing Director, Institutional, Corporate and Commercial Banking, New Zealand
September 2004
Appointed Managing Director, Institutional, New Zealand
November 2003
Appointed Managing Director, Institutional Markets, ANZ National Bank Limited
June 1996
Appointed Treasurer, National Bank of New Zealand Limited
1984
Joined South Pacific Merchant Finance