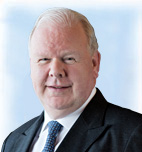 Chief Executive Officer
Australia and New Zealand Banking Group Limited
ANZ Centre
833 Collins Street
Docklands VIC 3008
Australia
Michael Smith has been Chief Executive Officer of Australia and New Zealand Banking Group Limited (ANZ) since October 2007.
Until June 2007, Mr Smith was President and Chief Executive Officer, The Hongkong and Shanghai Banking Corporation Limited; Chairman, Hang Seng Bank Limited; Global Head of Commercial Banking for the HSBC Group and Chairman, HSBC Bank Malaysia Berhad. Previously, Mr Smith was Chief Executive Officer of HSBC Argentina Holdings SA and was subsequently appointed Chairman of HSBC in Argentina in 2000.
Mr Smith joined the HSBC Group in 1978 and during his 29-year career he held a wide variety of posts in Hong Kong and the Asia-Pacific region, the United Kingdom, Australia, the Middle East and South America, including appointments in Commercial, Institutional and Investment Banking, Planning and Strategy, Operations and General Management.
Mr Smith graduated with honours in Economic Sciences in 1978 from City University of London. In 2013, he was awarded an Honorary Doctor of Laws from Monash University, Melbourne.
He is a member of the Australian Bankers' Association, the Business Council of Australia and the Asia Business Council.
Mr Smith is a Director of the Institute of International Finance and the International Monetary Conference; Executive Chairman of the Chongqing Mayor's International Economic Advisory Council; a Member of the Shanghai Mayor's International Financial Advisory Council; and a Fellow of The Hong Kong Management Association. He is also a Director of the Financial Markets Foundation for Children and, Financial Literacy Australia Limited and a Member of Australian Government Financial Literacy Advisory Board.
Mr Smith was made an Officer of the Order of the British Empire in 2000 and a Chevalier de l'Ordre du Merite Agricole in 2007.
He is married with three children. His interests include wine, tennis and classic cars.
Last updated: February 2014.