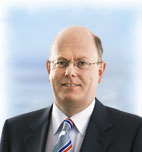 Deputy Chief Executive Officer
Australia and New Zealand Banking Group Limited
ANZ Centre
833 Collins Street
Docklands VIC 3008
Australia
Graham was appointed Deputy Chief Executive Officer in May 2009. Prior to this role, Graham was Chief Executive Officer, New Zealand and a director of ANZ National Bank Limited responsible for the running of ANZ Group's New Zealand business.
Graham has held the positions of Group Managing Director, Corporate, Managing Director, Small to Medium Business and Head of Corporate Banking for Australia and New Zealand.
Other prior roles with ANZ include State Manager, Business Banking for Victoria and Tasmania; and Regional Executive, Business Banking Melbourne.
Graham joined ANZ in 1991 and was appointed Chief Economist in 1992, a post he held for three years.
Before ANZ, Graham spent several years with the International Monetary Fund in Washington DC and nine years in Commonwealth Treasury in Canberra.
Graham has a Bachelor of Economics (Hons) from Monash University.
Last updated: March 2014
Key dates
May 2009
Deputy Chief Executive Officer

December 2005
Chief Executive and Director of ANZ National Bank
April 2004
Group Managing Director, Corporate
December 2002
Managing Director, Corporate and Small to Medium Business
September 2000
Managing Director Small Business
January 2000
Head of Corporate Banking, Australia & New Zealand
November 1997
State Manager, Business Banking Victoria & Tasmania
1992
ANZ's Chief Economist
1991
Joined ANZ