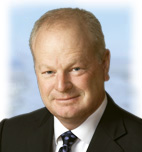 Chief Executive Officer, ANZ New Zealand
ANZ Centre,
Auckland,
New Zealand
David Hisco was appointed CEO of ANZ New Zealand, New Zealand's largest financial services organisation, in August 2010.  He is also head of ANZ's Commercial segment globally and has held this position since 2008.
During his 32-year career at ANZ, David has held a number of senior executive roles in retail and commercial banking.
His experience in New Zealand includes being Managing Director of finance company UDC between 1998 and 2000, oversight of Eftpos New Zealand from 2002 to 2004, Chairman of UDC from 2005 to 2007 and oversight of New Zealand Commercial since 2008.  David holds a Bachelor of Business (Accounting) from Deakin University, a Graduate Diploma in Business Administration and an Executive Masters of Business Administration, both from Monash University (Mt Eliza).
In 2013 David won the Asian Banker CEO Leadership Achievement Award for New Zealand.  This award is presented every three years for the delivery of strategy during that period.  David won the award for successfully leading the merger of The National Bank of New Zealand with ANZ. He is a founding director of the Australian food donation charity, Second Bite, a Fellow of the Financial Services Institute of Australasia, and a Certified Practising Accountant (Aust).
Key dates
September 2010
Appointment as Chief Executive Officer, ANZ New Zealand announced
October 2008
Appointed Group Managing Director Commercial Banking
December 2005
Appointed Managing Director, Esanda
December 2004
Appointed Managing Director, Retail Banking
October 2002
Appointed Managing Director, Merchant Payment Solutions Australia and New Zealand
February 2000
Appointed General Manager, Merchant Acquiring
January 1998
Appointed General Manager, UDC Finance, New Zealand
September 1996
Appointed National Manager, Specialised Leasing, Esanda