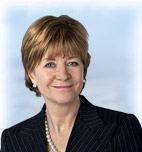 Chief Information Officer 
Australia and New Zealand Banking Group Limited
ANZ Centre
833 Collins Street
Docklands VIC 3008
Australia
Anne Weatherston is Chief Information Officer and Management Board member at ANZ responsible for the development and maintenance of the infrastructure and technology solutions that support ANZ.
Prior to joining ANZ in 2010, Anne was Group Chief Information Officer for the Bank of Ireland for four years. In that role she was responsible for the delivery of IT to all Bank of Ireland business units including transformational and operational IT.
Anne joined Bank of Ireland from Abbey/Santander, where as IT Director she led a major transformation program of the bank's IT capability both pre and post the acquisition by Santander.
Previously, she held various senior positions including Director of UK Business Integration at Gaz de France, as well as Director of Business Strategy, Development and IT for the Student Loans Company in the UK.
She has an MBA from the Strathclyde Business School.
Last updated: March 2010
Key dates
January 2010
Appointed as Chief Information Officer
2006 
Group Chief Information Officer, Bank of Ireland
2004
IT Director, Abbey/Santander
2002
Director of UK Business Integration, Gaz de France
1998
Director of Business Strategy, Development and IT, Student Loans Company
1996
Head of European Convergence/Head of Strategy and Architecture Europe, National Australia Group
1993
Project Director IT Transformation/Head of Development - Operation Division, Royal Bank of Scotland