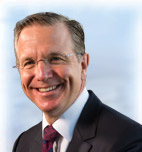 Andrew Géczy
Chief Executive Officer,
International & Institutional Banking
Andrew Géczy is a senior international banker with 25 years experience in wholesale banking, markets and asset management.
Between 2009 and 2013, Andrew was a senior executive at Lloyds Banking Group where he was CEO Wholesale Banking and Markets. In this role, he had global responsibility for Corporate and Institutional Banking, Sales and Trading, Capital Markets, Structured Corporate Finance, Transaction Banking, and Portfolio Management.
He joined Lloyds Banking Group from the specialist investment advisory and asset management firm, Manresa Partners, which he founded in 2005 with offices in London, New York, Hong Kong, and Dublin.
Previously, Andrew was with Citigroup where he held a number of leadership roles in Corporate and Institutional Banking between 1991 and 2005.
He was Global Head of Structured Corporate Finance from 2001 with responsibilities covering more than 80 countries including a significant growth business in Asia. He was also a member of Citigroup's Global Fixed Income Management Committee, the Global Banking Operating Committee, and Board Member of Citigroup Europe PLC and other Citigroup affiliates.
Andrew began his career in accounting with Price Waterhouse and KPMG having completed a Master of Science at the University of Virginia.