DipQS, FAICD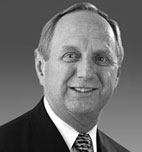 Chairman
Independent Non-Executive Director since October 2004. Mr Morschel was appointed Chairman with effect from 1 March 2010 and is an ex-officio member of all Board Committees.
Skills, experience and expertise
Mr Morschel has a strong background in banking, financial services and property and brings the experience of being a Chairman and Director of major Australian and international companies.
Current Directorships
Director: CapitaLand Limited (from 2010), Tenix Group Pty Limited (from 2008) and Gifford Communications Pty Limited (from 2000).
Former Directorships include
Former Chairman: Rinker Group Limited (Chairman and Director 2003-2007), Leighton Holdings Limited (Chairman and Director 2001-2004) and CSR Limited (Director 1996-2003, Chairman 2001-2003).
Former Director: Singapore Telecommunications Limited (2001-2010), Rio Tinto Plc (1998-2005), Rio Tinto Limited (1998-2005), Westpac Banking Corporation (1993-2001), Lend Lease Corporation Limited (1983-1995) and Tenix Pty Ltd (1998–2008).
Age: 70. Residence: Sydney.