LLB (MELB), FAICD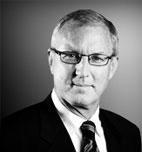 Independent Non-Executive Director
Chair of the Governance Committee.
Non-Executive Director since November 2008. Mr Hay is a member of the Audit Committee and Human Resources Committee.
Skills, experience and expertise
Mr Hay has a strong background in company law and investment banking advisory work, with a particular expertise in relation to mergers and acquisitions. He has also had significant involvement in advising governments and government-owned enterprises.
Current Directorships
Chairman: Newcrest Mining Limited (from 2014, Director from 2013).
Director: Landcare Australia Limited (from 2005), GUD Holdings Limited (from 2009), Myer Holdings Limited (from 2010) and Australian Institute of Company Directors (from 2012).
Member: Australian Government Takeovers Panel (from 2009).
Former Directorships include
Former Chairman: Lazard Pty Ltd Advisory Board (2009-2013).
Former Chief Executive Officer: Freehills (2000-2005).
Former Director: Alumina Limited (2002-2013), NBN Co Limited (2009-2012), Myer Pty Limited (2010-2011) and Lazard Pty Ltd (2007-2009).
Age: 63. Residence: Melbourne.