LLB (MELB), FAICD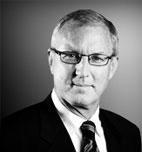 Independent Non-Executive Director
Chair of the Governance Committee.
Non-Executive Director since November 2008. Mr Hay is a member of the Audit Committee and Human Resources Committee.
Skills, experience and expertise
Mr Hay has a strong background in company law and investment banking advisory work, with a particular expertise in relation to mergers and acquisitions. He has also had significant involvement in advising governments and government-owned enterprises.
Current Directorships
Director: Alumina Limited (from 2002), Landcare Australia Limited (from 2008), GUD Holdings Limited (from 2009), Myer Holdings Limited (from 2010), Australian Institute of Company Directors (from 2012) and Newcrest Mining Limited (from 2013).
Member: Australian Government Takeovers Panel (from 2009).
Former Directorships include
Former Chairman: Lazard Pty Ltd Advisory Board (2009-2013).
Former Chief Executive Officer: Freehills (2000-2005).
Former Director: NBN Co Limited (2009-2012), Myer Pty Limited (2010-2011) and Lazard Pty Ltd (2007-2009).
Age: 63. Residence: Melbourne.