B Com, LLB, FAICD(LIFE), FCPA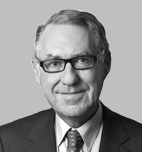 Chairman
Independent Non-Executive Director since February 2014.  Mr Gonski is an ex-officio member of all Board Committees including Chair of the Governance Committee.
Skills, experience and expertise
Mr Gonski is one of Australia's most respected business leaders and company directors with business experience in Australia and Asia, and a broad range of involvement with the government, education and community sectors.  Mr Gonski served previously as a Director on the ANZ Board from 2002 to 2007.
Current Directorships
Chairman/President: Coca-Cola Amatil Limited (from 2001, Director from 1997), The University of New South Wales Foundation Limited (from 2005, Director from 1999) and Sydney Theatre Company Ltd (from 2010).
Director/Member: Singapore Telecommunications Limited (from 2013), Australian Philanthropic Services Limited (from 2012), ASIC External Advisory Panel (from 2013) and Lowy Institute for International Policy (from 2012).
Chancellor: University of New South Wales Council (from 2005).
Former Directorships include
Former Chairman: Guardians of the Future Fund of Australia (2012-2014), Investec Bank (Australia) Limited (2002-2014), Swiss Re Life & Health Australia Limited (2011-2014), Investec Holdings Australia Limited (2002-2014), Ingeus Limited (2009-2014), National E-Health Transition Authority Ltd (2008-2014), Federal Government Review Panel of Funding for Schooling (The Gonski Review) (2011-2012), Advisory Committee to the NSW Government Commission of Audit (2011-2012) and ASX Limited (2008-2012, Director from 2007).
Former Director: Investec Property Limited (2005-2014), Infrastructure NSW (2011-2014), Singapore Airlines Limited (2006-2012) and Westfield Holdings Limited (1985–2011).
Former Consultant: Morgan Stanley Australia Limited (1997-2012).
Age: 60. Residence: Sydney.